Episode 382

Phoenix Arizona artist Daniel Jordan joined the archive with this dope interview!
Shoestring of the Dayton Family speaks about new album Fix My City and much more
Rass Kass headlined this episode but X-It Only and Drill'em Out also came through
Seed of 6ix is back to speak about their new album Smoke N Mirrors and much more
Chinaman Records joins the show. Fresh Kid Ice brought along Monte Cristoe, Fame Faiella, Drillem Out, and B Durty.
A1-YO bring you game from Oakland to Texas on this brand new dope interview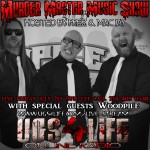 Woodpile comes back to the show to discuss their newest album Blood, Sweat, and Beers and much more!
Court Dog aka Big Court speaks about his early and current days with No Limit, his classic music, films and much more!
UGS4LIFE This is a 5 year Tribute Mix for the release of the F-ck Tha illuminati Compilation of Rap's biggest Global project with 15+ Countries, 120+ artists and close to 70 tracks!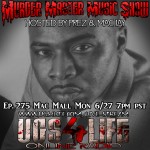 Mac Mall speaks a bout his new book, his latest album, friendship with Tupac, Mac Dre and much more!
Greg Mack is A legendary radio personality credited for breaking Eazy-E and NWA records
Tennessee Butches explain the sound of violence in this group interview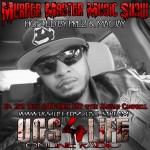 Hassan Campbell speaks out about Afrika Bambaataa and the sex abuse allegations
If you like to get AMPED THE FUCK UP "The Sound of Violence" is the album for you. Tennesse Butchers is A group of various artists from Clarksville, TN. If you are big on underground rap from the Mid-South you will recall Vi.D.O Entertainment with the classic group U.S.A. United Soldiers Affiliation. This is on that level but with A different line up, including K7Leetha, Antidote, Mr. Mugg, Kountri Boi, Lil Hatchet,and even a cold ass female rapper Mr$ Mugg.
The energy kicks in instantly with an eerie intro leading right into a posse track "DoItIfUGonna" with everyone killin' it over a real dark beat. I don't know how they pulled it off but they managed to keep a consistent sound throughout the whole album while having many producers that include: Chris Mecca, Dark OneBeats, RDX, Silins Beats, B. Wright,Platinum Seller Beats, VTZ, Diamond Style Productions, Cinematic Hype,Feelz Beatz, and Moscow Mark.
They got a dope song called "Rappit Season" and a Video where they go in on these wack ass lamestream rappers now days. Music like this is needed now more than ever considering how messed up the state of Rap is. Then on songs like "12GAor12thGR" that is full of substance and reality speaking about how bad the youth have it these days meaning you can choose A 12 Gauge or the 12th Grade. I respect them for speaking on not only the evils against the youth but the political corruption that plagues society.
In all honesty I can't say there is one wack track on this album. If you like reality,and substance mixed with brutality over dope ass beats with a sound similar to that of the Late Lord Infamous (whom they have worked with before his death), but also embodies several other syles, sounds, and subject matter then this is for you. Very well rounded album and very militant against the Lamestream, in fact right on the cover it says "The Culling of the Lamestream Begins in Tn." I stand with them against the Lamestream because the time is now if you want to restore substance, truth and integrity back into the game otherwise we are just gonna continue to be swamped with Swag, Materialism,and artists with out any form of talent. Let's take this shit back!!!!!

The Album "Sound Of Violence Will is available on Itunes
Check them out on line at
Twitter
Facebook
Youtube
Soundcloud
Instagram
Also visit their site at www.vidoentertainment.com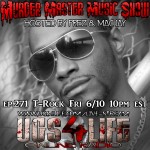 T-Rock Announces his final solo album in this all new interview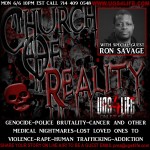 Ronald Savage discusses Afrika Bambaataa and speaks out against child molestation
Mac Jay and Velvet Rose give you the latest news stories as well as get a surprise call from the elusive West Side Willie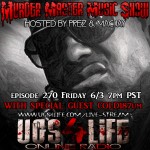 Cold187um of Above The Law speaks about his upcoming film trilogy and album the Black Godfather
Born 2wice shares incredible memories of Ice-T, Pimp-C, Rapalot, and much more during this rare interview.
Mac Jay and Velvet Rose Knock the 1st Episode of Underground Saturday Night out the park as they got calls from Alex the Fairy and Backwoods Bubba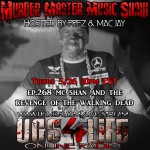 MC Shan is back once again to chop it up with Prez and Mac Jay
Brian Shafton RBC Records CEO chops it up with us about Priority Records, Master-P, E-40, Tech N9ne, and of course RBC Records!
B~Style Yukmouth chopped it up with us about the rap game, real life, the Real Rick Ross and much more!
The Luniz Yukmouth came through to speak about weed, music, and alot more! .
Episode 264

Ad Kapone of the legendary East Palo Alto Rap Group Totally Insane chops it up about In-A-Minute, West Coast Bad Boyz, and much more! .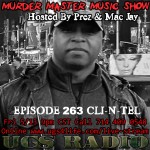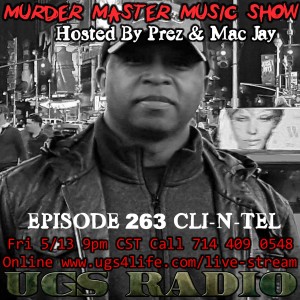 Episode #263
Cli-N-Tel is no stranger to the show, here he brought the first female MC Sha-Rock with him to discuss the Universal Hiphop Museum and much more! World Class Wreckin Cru.
Episode #262
Snake Lucci is currently incarcerated, but we were able to catch up with him for this exclusive interview. You will hear the story of an Omaha Nebraska rapper who has been in prison for the majority of the last decade and also hear some dope music from him and his camp Snake House Records.
Episode #261
Royce Da 5'9
is here to speak about his new project Layers and much more
Episode #260
Willie-D
from the legendary group the
Geto Boys
comes on the show to speak about his new song
Coon
Episode #259
-Download-
Brotha Lynch Hung
brings that Ripgut cannibal flavor to the show
in this interview
Episode #258
-Download-
First Degree The D.E.
Returns to the show and brings a special guest in the form of
Brotha Lynch Hung
in this historical interview

When it comes to uncertainty, the element of surprise, the unknown,
and the macabre mixed with knowledge, funk, dope beats, and at times
utter insanity, you got yourself a First Degree The D.E. album, and
"The Black Bane: The Misunderstood Hero Part 1" lives up to all of those
attributes and then some.
It starts off with the title track "Black Bane" which happens to be laced with
one of the dopest beats I've heard in a long time, and is perfect to set the tone
for the rest of the album which will take you on many twists and turns
only like D.E. can. The funk is all over the album with alot of live instruments!
He has a whole catalog of music dating back to the early 90's, but the question is
where does this album rank among the D.E. classics!
If you have been following him then you will not only thoroughly enjoy this album,
you might even go as to far as to say that it might be his best effort to date.
Phonk Beta of course is all over the project, it has many tracks that are worth
checking out like the unity driven underground homage payer "The Fahrenheit Record"
or maybe the funk on "Say Serra" is mixed perfectly with realism and the 90's elements
on "I Wear Black Cuz Its Just My Style" are just what the rap game needs right now.
There is a total of 12 tracks altogether, with two videos "I Wear Black Cuz Its Just My Style"
and Black Bane as well as live instrumentation throughout the project making this
another D.E. classic to add to his catalog. When you listen to this album you
should walk away with more knowledge, more musical insight, and as always with
D.E. a huge mind full of "What the F-ck?" Plus he does take care of all the
randoms from randomsville! If you are a new listener this album will take you
on a wild ride straight into the mind of D.E. and after you hear it, you should
be on your way to discovering his other projects from the last two decades!
Get the album Black Bane The Misunderstood Hero Part 1 on Itunes
Also check out D.E.'s Site for music, radio, and much more!
Episode #257
-Download-
Total Devastation
Gives us many clouds of smoke
in this brand new interview
Episode #256
-Download-
MC Shan
comes back on to discuss his previous visit last week
Episode #255
-Download-
Ren
of the Doja Clik
brings up the level of THC on the show
Episode #254
-Download-
Crunchy Black
and Faided
speak on epic collaboration
Ruthless 6ix
with seeds of N.W.A. and Triple 6 Mafia
Episode #253
-Download-
MC Shan
returns to the show and challenges
KRS One
to a rap battle and much more!
Episode #252
-Download-
Paradise Gray
member of the Hip-Hop Group
X-Clan
speaks about the Universal Hiphop Museum and much more!
Episode #251
-Download-
Twisted Insane
the San Diego Lyrical Monster and
Brainsick
frontman joins the legendary archive!
Episode #250
After almost 4 years we have reached a milestone at 250 episodes. Many doubted us, many left us to rot, many counted us the f-ck out but time after time we have broken through mainstream doors and accomplished what many with huge budgets can't. Join us as we celebrate episode 250 and see who calls in!
Artists who came through were: Bootleg, Point Blank, Nino of Ghetto Mafia, Dice, Cli-N-Tel, Fresh Kid Ice, Esham, and Pooh-Man
Episode #249
-Download-
Bay Area Legend
Bigg Quint
of the Frisco Group
UDI
&
and much more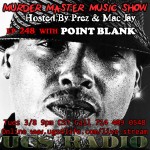 Episode #248
-Download-
SPC's Own
Point Blank
Speaks about the movie
Triple 9
&
and much more
Episode #247
-Download-
Author of Tupac 187 Michael Douglas Carlin will speak with hosts Prez & Mac Jay about the Murder of Tupac Shakur and much more.
Episode #246
-Download-
Sac-Town Northern Cali Vets E-Moe and D-Dubb will be choppin it up with hosts Prez & Mac Jay for Episode 246
Episode #245
-Download-
Murder Rap Documentary About The Tupac and Biggie Murders
Episode #244
-Download-
M-Town Legend MC Mack of the Kaze is back the show
Episode #243
-Download-
New Orleans own Turk of the Hot Boys returns to the show
Episode #242
-Download-
Snug Brim The KCMO Vet joins the archive Skatterman and Snug Brim."
Episode #241
-Download-
Freeway Ricky Ross In this Exclusive Interview Endorses Clinton."
Episode #240
-Download-
Esham Was on the show to speak on his new EP Remastered Collection BKB Interview."
Episode #236
-Download-
Universal Hiphop Museum Afrika Bambataa, Kurtis Blow, Paradise Gray (X-Clan), Cli-N-Tel,Grand Wizard Theodore (First DJ to Scratch), Sha-Rock (First Female Emcee), Rocky Bucano,and Siccx to represent his brother the late Mike Dream Francisco (West Coast Graffiti King) among others came through ."
Episode #235
-Download-
LDP Livin Dead Productions Round Table Episode .
Episode #239
-Download-
Pastor Troy came through to speak on his new album DSGB."
Episode #238
-Download-
Renizance just released his debut solo album but is also part of the legendary Fort Worth group Immortal Soliderz. Check out this episode where we chop it up with the Ft Worth Vet and play music off his new album "The Streets is Calling."
Episode #234
-Download-
Memphis legend Kingpin Skinny Pimp is here to speak on his latest project and more.
Episode #237
Brother NIP "Street Messiah" www.ugs4life.com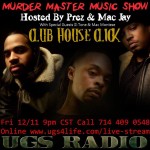 Episode #233
The Club House Click is here to debut some tracks off their new album "Ovaworked and Unapaid" you can check out the review at www.ugs4life.com
Episode #232
Right around 5 years ago UGS was founded, tonight we celebrate the Underground Society UGS4LIFE
Episode #231
Liffy Stokes Speedknot Mobstaz.
Episode #230
During the early part of the show Trawood was a regular, recently he passed away so tonight we dedicate this episode to him in the form of a tribute mix with a mixture of his words and his music. RIP homie!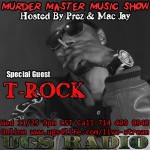 Episode #229
T-Rock is no stranger to the Murder Master Music Show. Hear a preivew of his new album and chop it up with a real underground legend
Episode #228
Download
One of K-DeeWest Coast LegendC.I.A. Ice Cube Sir Jynx
Episode #227
Download
One of Northern Cali's dopest producers and Guinness World Record Breaking artist Never of Lowdown will be on the show