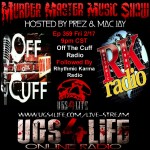 Tonight we showcase a couple other dope platforms for Hiphop. First we chop it up with Off the Cuff Radio followed by Rhythmic Karma Radio

Snake Lucci actually put out River City awhile back because he has been incarcerated
for quite sometime.Even though he is behind the wall he has alot to say as you will
hear in an upcoming interview that he did with me recently. His people sent me this
album and I gotta say it is hard as fuck as you will find out for yourself.
He is from Omaha Nebraska which is a spot known in the underground for talented
artists such as Lon Mac aka Lon Meezy, and several others making it one of the hot
spots in the Mid-West even though it does not get the props that it deserves.
Snake continues with this tradition bringing real tight lyrics over super dope beats
that give the River City project a classic sound from the Middle of the map!
He raps about the harsh realities of the streets and has several flows. He can speed
it up fast as hell with that sniper flow, but then can slow it down for some laid back
shit. Over all he is a very well rounded artist. He has some help on here with cats
like Reali-T, Titus, Big Sofa, MCE, and QP.
Songs like Threat feat Reali-T displays a pure Hip-Hop style over hardcore rhymes
about the gritty conrete life. My other favorite cut was Face Off also with A
guest spot from Reali-T, in fact the song has a Chopped-N-Screwed version too.
This album is a must if you wanna check it out make sure to go to
Snakehouserecords.com
And if you want to write to Snake Lucci hit him up at
Mario Calloway 6657725
ASP
406 N. High St.
Anamosa, Iowa 52205