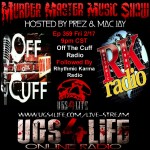 Tonight we showcase a couple other dope platforms for Hiphop. First we chop it up with Off the Cuff Radio followed by Rhythmic Karma Radio
I am convinced that K7Leetha really eats human flesh. This is the third installment to the Red Eggz & Ham series and it is pretty much a trilogy of terror, but that's not all. You can't box him into just Horrorcore because he is so much more than that. Sure I think K7Leetha with songs like the Bloodhound Gang cover of Nothing But Mammals entitled Nothin But Cannibalz would have you believe otherwise, and I'm sure he could make the most disgusting and disturbing music with people like Ganxsta NIP or Brotha Lynch Hung, but Leetha takes you in multiple directions.
I always loved how he went right at lame weak ass fuckin' rappers. Songs like Lazy Ass Rappers, and Swagger Centipede go right at these wack cornball jerk-off rappers that are destroying the game. Leetha is about respect and upholding integrity in the rap game, he will bring it to a swaggotz ass in a hurry! The song Taylor Swift is hilarious because in the chorus he says "Taylor Swift goes harder than you and your whole crew", I had to laugh my ass off at that because sadly it's true now days in Hiphop. He has a couple videos the first is on some Tennessee Crunk buck shit called 24 Hours. Then he goes in on some more lames with the song and video for Wiley Coyote.
On top of that this album is a Vi.D.O. release so you know it is packed fulla sunstance. I always apprciated that about Vi.D.O. artists because when you cop their albums you are not getting that materialistic bullshit, you are getting brutality, substance, and good game over hard crunk beats. Some of the other tracks I enjoyed were Factory Now Hiring, House of Cardz, Go To Town On Em and just about every track. This is definitely one of the hardest albums of 2016 easily!
You can cop it on Amazon or just about anywhere else online Make sure to hit up Vi.D.O. and check out the other dope music they released so far this year
http://www.vidoentertainment.com/
Follow him on Twitter
Subscribe to Vi.D.O. YouTube
Check out Soundcloud
And Instagram
Shoestring of the Dayton Family speaks about new album Fix My City and much more
Mac Jay and Velvet Rose discuss this insane new pokemon craze and how people are doing stupid things in order to be successful at the game.
This new Mr.Mink Loco album "Cali Clap Muzsic" is A breath of fresh air in the rap game 2016. Some straight California G-Funk from the start to the end. This is coming outta San Diego and gives you the feel of something straight out the 1990s, which is exactly where I wanna be with the music I listen to, because in all honesty many of the newer cats are too eager to bandwagon that swag bullshit, but not this. It's full of dope samples, laid back funky beats, with hard street rhymes.
I love how the fact that he puts the skinny jean wearing fools on blast in the song Tell No Lie, he also goes at the wack rappers, the police, and is letting you know what his town is like, how hard it is in the streets. On the song They Really Ain't Knowin he speaks about his grind, his production which is dope as fuck and just a day in the life of Mink Loco.
The homie Miguel put me up on this CD and I gotta say I'm glad he did, I could name off just about every track on here. I didn't hear anything wack at all. It's reppin' San Diego and California all through out the project. He wants you to fully understand where he is from and what his hood is like in the form of dope hard edged rhymes over smooth G-Funk laced Cali beats. Dago's Finest and Livin That Dago Life are perfect examples of the love Mink has for his city.
He has a gang of features on here some of them are Anthrax, Mister Lowc,Licwit,Richianno,and Baby Keko. He also dropped a video not too long ago which you can see here called Time to Get It featuring Mister Lowc and Anthrax.
I got no complaints, I like this cat, he's lyrically on point and his production is dope as hell bnot too mention he goes in on that new age bullshit rap all throughout the album. He is takin' it to these lame ass swag skinny jean skin tight shirt wearin' cornball rappers. He sees how they are desicrating the rap game and as a long time Hiphop supporter, I appreciate mfers who attack that fuckery music!
Digital Version coming soon but you can buy physical copies from Mr.Mink Loco
To get his new album connect with Mr. Mink Loco online at
Rass Kass headlined this episode but X-It Only and Drill'em Out also came through
Seed of 6ix is back to speak about their new album Smoke N Mirrors and much more
Chinaman Records joins the show. Fresh Kid Ice brought along Monte Cristoe, Fame Faiella, Drillem Out, and B Durty.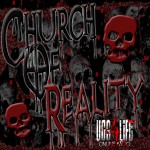 What the hell is happening in America?
Mac Jay and Velvet Rose take crazy callers, bring you the news, and spin some classic tracks in another 3 hour double episode!
A1-YO bring you game from Oakland to Texas on this brand new dope interview
Mac Jay and Velvet Rose take callers, bring you the news, and spin some classic tracks in another 3 hour double episode!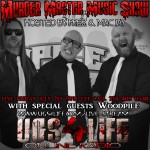 Woodpile comes back to the show to discuss their newest album Blood, Sweat, and Beers and much more!
Court Dog aka Big Court speaks about his early and current days with No Limit, his classic music, films and much more!
Woodpile is back and they ain't fuckin' around! I reviewed at least 2 of their 3 previous albums over at Murder Dog and they were always a dope talented group, but they upped the level of talent a few notches for sure. Blood , Sweat, and Beers takes you in several directions and that is what could make this album be successful in just about any market globally!
First and foremost let's get straight to the bloody murder of it all, which by the way is the title of one of the tracks on the album. It is packed with tales of violence and rage, and pure aggression! I always loved the fact that these guys bring a very high level of energy to their music. It's not just 3 dudes rappin' lyrics over a beat, they all put alot of adrenaline into their music making sure the listener gets amped the fuck up, in my case it worked perfectly, as I found myself balling up my fists, bobbin' my head, ready to attack the mailman if he gives me too much junk mail today!
Tracks like Worldwidewoodpile have the same energy as a rowdy Three 6 anthem mixed with some of the hardest vocals on any track! Then you take the guitar that is all over this album like on the songs "Pendulum" and "Terrible" and it takes to to another place musically. This record could pass for a rap album or a heavy rock album. But they don't even stop there because on songs like "Wanna Believe" which they made a video for, they speak about how their beliefs keep them from ending up in jail or in messed up situations. They bring a high level of substance with this project, alot of positive messages, but at the same time, it's Woodpile so you can definitely expect some hardcore in your-face aggressive reality over some of the dopest production out there.
The album was actually mixed and mastered by Grammy award winner Jeremy Parker out of Premier Studios in Phoenix AZ. who won A Grammy with Evenesense. The sound quality on this album is phenomenal to say the least. There is a total of 10 tracks, I didn't have to skip through anything, just let it ride and it will take you on a helluva journey to say the least. This is their 4th and best album to date, you wont be disappointed!
Available now on Itunes
Connect with Woodpile online at
UGS4LIFE This is a 5 year Tribute Mix for the release of the F-ck Tha illuminati Compilation of Rap's biggest Global project with 15+ Countries, 120+ artists and close to 70 tracks!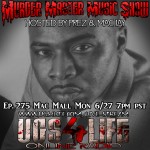 Mac Mall speaks a bout his new book, his latest album, friendship with Tupac, Mac Dre and much more!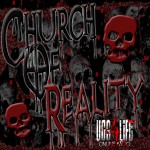 Mac Jay and Velvet Rose Tell the news and get callers from all over the country in this 3 1/2 hour long double episode
Slaughter Hour Episode consists of a mix containing 100 Scratch LDP Verses
Greg Mack is A legendary radio personality credited for breaking Eazy-E and NWA records
Mac Jay and Velvet Rose Host another episode with wild news, sports, and a a few callers including a freestyle outta NYC at the end of the show
Tennessee Butches explain the sound of violence in this group interview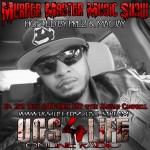 Hassan Campbell speaks out about Afrika Bambaataa and the sex abuse allegations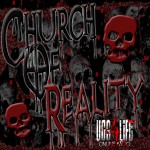 Human Organs Sold on the Black Market discusses
Mac Jay and Velvet Rose give you the latest news stories and speak on a variety of topics for Episode 3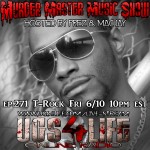 T-Rock Announces his final solo album in this all new interview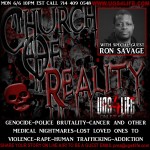 Ronald Savage discusses Afrika Bambaataa and speaks out against child molestation
Mac Jay and Velvet Rose give you the latest news stories as well as get a surprise call from the elusive West Side Willie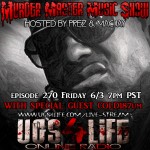 Cold187um of Above The Law speaks about his upcoming film trilogy and album the Black Godfather
Born 2wice shares incredible memories of Ice-T, Pimp-C, Rapalot, and much more during this rare interview.
Mac Jay and Velvet Rose Knock the 1st Episode of Underground Saturday Night out the park as they got calls from Alex the Fairy and Backwoods Bubba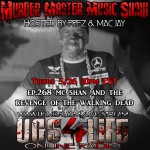 MC Shan is back once again to chop it up with Prez and Mac Jay
Brian Shafton RBC Records CEO chops it up with us about Priority Records, Master-P, E-40, Tech N9ne, and of course RBC Records!
B~Style Yukmouth chopped it up with us about the rap game, real life, the Real Rick Ross and much more!
The Luniz Yukmouth came through to speak about weed, music, and alot more! .
Episode 264

Ad Kapone of the legendary East Palo Alto Rap Group Totally Insane chops it up about In-A-Minute, West Coast Bad Boyz, and much more! .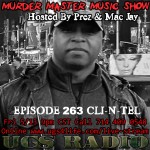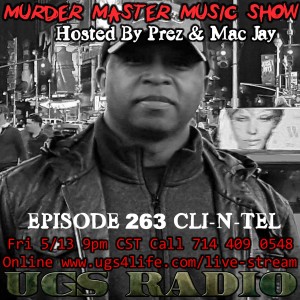 Episode #263
Cli-N-Tel is no stranger to the show, here he brought the first female MC Sha-Rock with him to discuss the Universal Hiphop Museum and much more! World Class Wreckin Cru.

Snake Lucci actually put out River City awhile back because he has been incarcerated
for quite sometime.Even though he is behind the wall he has alot to say as you will
hear in an upcoming interview that he did with me recently. His people sent me this
album and I gotta say it is hard as fuck as you will find out for yourself.
He is from Omaha Nebraska which is a spot known in the underground for talented
artists such as Lon Mac aka Lon Meezy, and several others making it one of the hot
spots in the Mid-West even though it does not get the props that it deserves.
Snake continues with this tradition bringing real tight lyrics over super dope beats
that give the River City project a classic sound from the Middle of the map!
He raps about the harsh realities of the streets and has several flows. He can speed
it up fast as hell with that sniper flow, but then can slow it down for some laid back
shit. Over all he is a very well rounded artist. He has some help on here with cats
like Reali-T, Titus, Big Sofa, MCE, and QP.
Songs like Threat feat Reali-T displays a pure Hip-Hop style over hardcore rhymes
about the gritty conrete life. My other favorite cut was Face Off also with A
guest spot from Reali-T, in fact the song has a Chopped-N-Screwed version too.
This album is a must if you wanna check it out make sure to go to
Snakehouserecords.com
And if you want to write to Snake Lucci hit him up at
Mario Calloway 6657725
ASP
406 N. High St.
Anamosa, Iowa 52205
Episode #261
Royce Da 5'9
is here to speak about his new project Layers and much more
Episode #260
Willie-D
from the legendary group the
Geto Boys
comes on the show to speak about his new song
Coon
Episode #259
-Download-
Brotha Lynch Hung
brings that Ripgut cannibal flavor to the show
in this interview
Episode #258
-Download-
First Degree The D.E.
Returns to the show and brings a special guest in the form of
Brotha Lynch Hung
in this historical interview

When it comes to uncertainty, the element of surprise, the unknown,
and the macabre mixed with knowledge, funk, dope beats, and at times
utter insanity, you got yourself a First Degree The D.E. album, and
"The Black Bane: The Misunderstood Hero Part 1" lives up to all of those
attributes and then some.
It starts off with the title track "Black Bane" which happens to be laced with
one of the dopest beats I've heard in a long time, and is perfect to set the tone
for the rest of the album which will take you on many twists and turns
only like D.E. can. The funk is all over the album with alot of live instruments!
He has a whole catalog of music dating back to the early 90's, but the question is
where does this album rank among the D.E. classics!
If you have been following him then you will not only thoroughly enjoy this album,
you might even go as to far as to say that it might be his best effort to date.
Phonk Beta of course is all over the project, it has many tracks that are worth
checking out like the unity driven underground homage payer "The Fahrenheit Record"
or maybe the funk on "Say Serra" is mixed perfectly with realism and the 90's elements
on "I Wear Black Cuz Its Just My Style" are just what the rap game needs right now.
There is a total of 12 tracks altogether, with two videos "I Wear Black Cuz Its Just My Style"
and Black Bane as well as live instrumentation throughout the project making this
another D.E. classic to add to his catalog. When you listen to this album you
should walk away with more knowledge, more musical insight, and as always with
D.E. a huge mind full of "What the F-ck?" Plus he does take care of all the
randoms from randomsville! If you are a new listener this album will take you
on a wild ride straight into the mind of D.E. and after you hear it, you should
be on your way to discovering his other projects from the last two decades!
Get the album Black Bane The Misunderstood Hero Part 1 on Itunes
Also check out D.E.'s Site for music, radio, and much more!
Episode #257
-Download-
Total Devastation
Gives us many clouds of smoke
in this brand new interview
Episode #256
-Download-
MC Shan
comes back on to discuss his previous visit last week
Episode #255
-Download-
Ren
of the Doja Clik
brings up the level of THC on the show
Episode #254
-Download-
Crunchy Black
and Faided
speak on epic collaboration
Ruthless 6ix
with seeds of N.W.A. and Triple 6 Mafia
Episode #253
-Download-
MC Shan
returns to the show and challenges
KRS One
to a rap battle and much more!
Episode #252
-Download-
Paradise Gray
member of the Hip-Hop Group
X-Clan
speaks about the Universal Hiphop Museum and much more!
Episode #251
-Download-
Twisted Insane
the San Diego Lyrical Monster and
Brainsick
frontman joins the legendary archive!
Episode #249
-Download-
Bay Area Legend
Bigg Quint
of the Frisco Group
UDI
&
and much more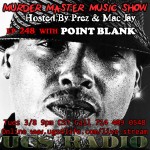 Episode #248
-Download-
SPC's Own
Point Blank
Speaks about the movie
Triple 9
&
and much more
Jackboy D. Payne and Scratch LDP bring you a collection of music
recorded over the last few years entitled Graveyard Shift.
It's a greatest hits project and best part it's free, no
reason not to check it out especially if you want hard beats
mixed with aggressive deliveries. During a time when dumbed
down rap is dominant, it's refreshing to hear some real shit!
Right out the gate "Give A Fuck" feat Slow Mo and J-Mack, this
sets the tone for the rest of the project. These cats give you
lyrics, and flow with concepts pertaining to the streets, life,
struggles, pain, and insanity at times.
I'm bumpin' the hell outta this project but I'm stuck on the song
Tales From The Darkside which was recorded in 2009 and Scratch
re-edited the Video of the same title that was also filmed in '09!
It starts off with a rapid fire chorus followed by some straight
murder verses by both Scratch LDP and Jackboy D. Payne.
There is a few tracks that are more laid back maybe on some
pimpin shit, but my favorites are the hardcore like Wig Split
feat Cloud-9. You gotta also bump Where Da Weed for the smokers,
and if you want substance they got plenty of that too check out
I Put It Down which speaks on suicidal thoughts and lost loved ones
and those incarcerated!
Check out the 2 Mash-Up Tracks which features collections of
various tracks mixed together. Dope project, talented artists
and it's fuckin' free! Download and bump this shit
immediately! – Prezident Bejda
Download For Free Datpiff
Also Check out their Datpiff Page for tons of free dope music
Episode #245
-Download-
Murder Rap Documentary About The Tupac and Biggie Murders
Episode #244
-Download-
M-Town Legend MC Mack of the Kaze is back the show
Episode #242
-Download-
Snug Brim The KCMO Vet joins the archive Skatterman and Snug Brim."
Episode #241
-Download-
Freeway Ricky Ross In this Exclusive Interview Endorses Clinton."
Episode #240
-Download-
Esham Was on the show to speak on his new EP Remastered Collection BKB Interview."

1/14/16 was a historical day in Hip-Hop even though many do not even know about what took place.Former Dr. Dre and DJ Yella of NWA band mate Cli-N-Tel (World Class Wreckin Cru) co-hosted an episode of the Murder Master Music Show with hosts Prez and Mac Jay. Cli-N-Tel who is A West Coast Representative of the Universal Hiphop Museum invited several guests on behalf of the museum that included people like Grand Wizard Theodore aka the inventor of the scratch, the first female emcee Sha Rock, plus Rocky Bucano, Afrika Bambataa, Kurtis Blow, Paradise Gray, DJ Cutman and UGS Radio's own Siccx on behalf of his late brother, Mike "Dream" Francisco, West Coast Graffiti King.
Check out the interview in it's entirety here on Episode 236 of the Murder Master Music Show. Don't forget to subscibe to our youtube and follow us on twitter
Episode #236
-Download-
Universal Hiphop Museum Afrika Bambataa, Kurtis Blow, Paradise Gray (X-Clan), Cli-N-Tel,Grand Wizard Theodore (First DJ to Scratch), Sha-Rock (First Female Emcee), Rocky Bucano,and Siccx to represent his brother the late Mike Dream Francisco (West Coast Graffiti King) among others came through ."
Episode #235
-Download-
LDP Livin Dead Productions Round Table Episode .
Episode #239
-Download-
Pastor Troy came through to speak on his new album DSGB."
Episode #237
Brother NIP "Street Messiah" www.ugs4life.com
COR Episode #126
Damon Feldman "Celebrity Boxing" www.ugs4life.com
Renizance is the founding member of the underground Fort Worth
Texas group the Immortal Soldierz which is globally known and has
been featured in publications such as Murder Dog and has worked
with the likes of Three 6 Mafia founding member the late Lord
Infamous, Twisted Insane, Z-Ro and many others.
Renizance just dropped his first solo album entitled "The
Streets is Calling" on Unforgiven Records and proves that he is
just as effective on his own as he is a with Immortal Soldierz.
The album starts off with one of my favorite tracks off the entire
project entitled "Kill Shit" where he murders the beat with his
signature style mixed with A combination of rapid fire rhymes and
A melodic chorus.
Other tracks that really stood out for me were the controversial song
"Trump Dies" where Ren shows no mercy for the Billionaire Businessman
turned Politician. Another heater was the Scotty Boy collab "Fuck Tha
World" which pretty much speaks on his struggle in the game and in the world.
The album has about 15 tracks total and I did not hear anything less than
dope as fuck on this album!
I have reviewed Immortal Soldierz projects in the old Murder Dog Magazine,
and "The Streets is Calling" stands on it's own as another Unforgiven Records
Classic! Renizance and Immortal Soldierz alike have both been heavily slept on
Considering the quality and talent they process as artists. You wont be
disappointed so cop that motherfucker immediately! Another dope project
for 2015 – Prezident Bejda
Make sure to get The Streets is Calling on ITunes also follow Renizance on @immortal817
First and foremost you can't deny the lyrical ability of T-Rock
In fact, he should always be recognized as one of the best to
ever do it. He has a rapid fire delivery, but can also hit you
from several other angles with many styles and flows.
We recently had him on the show and previewed dope tracks like
"Help Me God", other tracks that stood out were "D.O.A.",
"Burn It Down", and "Ride Or Die", the whole album is bumpin'
it has stuff for the streets, some club bangers, and plenty of
substance.
There is abut 18 tracks with some features but the majority of it
is T-Rock. I don't mind features, but when I listen to an album
especially one by the likes of T-Rock, K-Rino, NIP, Spice-1 and
others, I want to hear them, their styles, and artistry and T did
not let yall down! I reviewed other projects from him and one thing
is for sure, that is his talent is still here and still elevating!
Over all another great album from a talented vet! -Prezident Bejda
Get his latest album "The Untold Truth" on Itunes
Also Follow T-Rock on Twitter
Episode #231
Liffy Stokes Speedknot Mobstaz.
Black Rain Entertainment, II Tone, Mac Montese and a whole crew of features
make up this new Club House Click project "Ovaworked Undapaid" and if you are
a true fan of that Memphis sound, this will not disappoint you.
I have been bumpin II Tone's music for years and even though the late great
Lord Infamous is no longer with us, Tone and Montese keep the flame lit with
a real solid album and best part is the whole thing is packed full of dope
tracks and you can cop it on Itunes for only $5.99
Some of my favorite tracks include "Blow Ah N-gga Ass Off" which goes straight
for the jugular, then you gotta bump "Sacrifice" which goes in on gossipers. I
also cant stop listening to the final track on the album "Finna." The beats on
this album can't be fucked with and like I said it's only $5.99, no excuse not
to get this album if you like that real shit!
For 2015 I am pleased to see another real dope solid project such as this new
Club House Click "Ovaworked Undapaid" If you have been listening to Black Rain
ENT projects this is a must for your collection. Hat's off to them for this one!
Club House Click "Ovaworked Underpaid" on Itunes
Never is a veteran West Coast Northern Cali artist and also one of the dopest and most
slept on producers, even though VIA one of his groups, Minority Militia, he landed in the
Guinness Book of World Records for the largest rap group in the world. Never is also the
one behind the Northern Cali underground legendary group Low Down which released
several albums over the years including my favorite "The Valley of Death".
After a long hiatus from the rap game Never is back with a brand new album entitled
"Al Qaeda" and has enough fire power to blow up any region or even globally because
Never has a fan base that stretches across the planet.
I have reviewed several of Never's projects over the years including both Low Down and
Minority Militia projects, but have also reviewed the majority of Never's solo releases and
the new album "Al Qaeda" is a breath of fresh air for 2015. In a day and age where talent,
bars, and substance are lacking, Never came with the truth to pound into your brain along
with some of the dopest beats I have heard in a long time.
Songs like "My Philosophy" bring you back to the late 90s early 2000s almost as if you are
right back in that era when Never, Low Down, and Minority Militia were dropping albums all the time,dropping several albums in one year,
it reminds you of that time, it has that feel. Real hardcore
grimy beat laced with street raps unlike anything any of these lame-stream industry puppets are dropping now days.
Several tracks stands out such as "La La Song", "Fried Neck Bones" and probably one of if
not my faovrite track on the album "Ghetto Economics" where he is talking about taking
Anti-Depressants and Anti-Psychotics trying to cope with the troubles of life.
I can't do nothing but tell you to go cop this album immediately, Never has never let us down!
Cop the new album by Never "Al Qaeda" on I-Tunes today!
Episode #228
Download
One of K-DeeWest Coast LegendC.I.A. Ice Cube Sir Jynx
25 years ago back in 1990 when rap music still had substance and heart A
Miami group formed known as the Poison Clan. On the same label as the legendary
2 Live Crew, Luke Records, the group released 3 albums before departing to Warlock
Records where they released one final PC album.
The group was known for it's Bass-Dance music fused with hard street gangsta type
playa shit which formed a whole new style. It was like combining the 2 Live Crew
or Too Short with an NWA or Geto Boys.
Eventually JT Money went solo and released Pimpin On Wax which landed him A
Billboard Award and of course a plaque. Since his solo debut in '99 JT has released
A barrage of independent albums including his latest release 2015's PGP or
"Pimpin Gangsta Party." and if you know JT's music then you already know what kind
of album this is going to be.
He doesn't let the fans down, giving them enough Bass to shake the dust off Mummy Pussy,
mixed with enough street anthems to satisfy the day one fans. "Let Me See Ya" reunited J with
his former CEO Uncle Luke, "The Lick" takes you back and kinda reminds me of the PC
classic anthem "Action" then he gives you some personal music with "Mama Dearest."
So in all you are going to get the streets, the clubs, and then he is gonna hit you with
substance and hard truth. JT has always been a well rounded and respected artist and this is
the latest in his arsenal of musical weaponry! -Prezident Bejda